It really is. I LOVE Christmas. And it's been fun decorating this year~ I've been a little overwhelmed with having a new house to decorate because I had NO idea where to put anything. And I actually got most of the decorating done before we left for Thanksgiving in Texas, and am so THANKFUL now that I did that. It was great coming home and having most things done. The crafty bug has hit me hard this week, and so I've been working on a couple things. I was inspired by some stars similar to these on Fancy Pants' blog. I know, I know....I'm always inspired by Fancy Pants. :) They're my favorite~ I swear they are in my head. Crazy.
Pretty simple, basic project...some wooden stars, dowels, and spools. Add your favorite Christmas papers~ the ones I chose are from Basic Grey and Fancy Pants (I know, shocking). ;)
Black paint, E6000 to glue it all together, and some mod podge because I wanted a shinier finished product, some leopard print bows because 1) they go with the stockings I'm working on for our mantle and 2) I love leopard print. :) And voila! They're done.


A little "happy" for our mantle. :)


I was wanting something big for our entryway, and was inspired by something I saw in a Potterybarn Teen catalog. Their version had peace sign ornaments hanging on it, which was kinda fun, but I changed it up a little. We had these old deck boards in our yard (Brian replaced them this summer), so I asked him to put a few of them together for me so I could paint a tree on it. Thankfully he's used to my weird requests and happily got busy hammering. Love that man. :)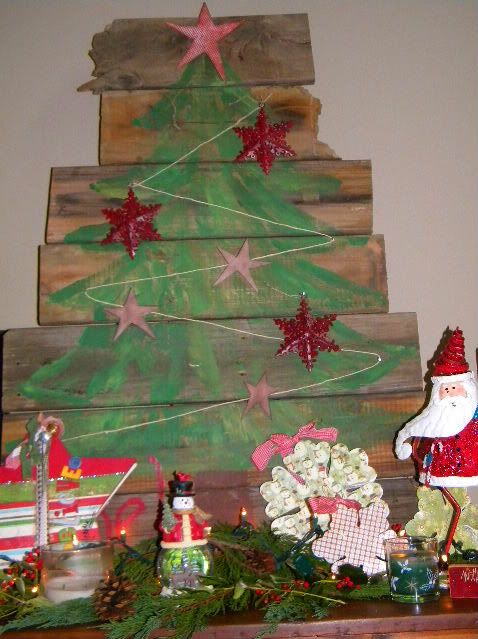 So I painted a tree, nailed some jute to create some trim, added some chipboard stars, a paper one on the top, hung these red snowflakes on the nails (purchased at Walmart), and it was done. It's different, fun, and adds something substantial to our entryway. What do you think?
And as a bonus, here's a pic of our dog, Addy, in her Christmas fleece jacket. Because apparently I've become one of those people who like to dress up their dog. Who would have thought? ;)