Happy Friday!
I am so excited about this kit. I love the colors, I love the flowers...I love how all the embellishments make me want to go out and work in my yard. Seriously...I'm planting flowers this weekend. :)
"Farm Boys"
These photos were taken by the fabulous Kelly Stocksen a few years ago, and they remain among my favorites of the boys. Love that we have such beautiful photos of the boys in one of their favorite places. They LOVE going to my parents' farm and getting to just be boys...dirt and all. :) This was my first time to scrap with chicken wire....and it was fantastic. I've seriously been trying to find new places for me to add this stuff in my house. :) And the fabric flowers are just happiness. As you can see, I have no fear when it comes to flowers on layouts that feature my kiddos. Who happen to be ALL boys. :) The way I see it, I'm the one scrapping the pics, and if I plan to hang the layout (like I do with this one) somewhere in my house, I want it to go with my decor. So there you go. :) Trust me, there are plenty of scrappy things with their faces on them that are as all boy as they are. It's all good.
As you can probably tell, these pots have been on my front porch for awhile. And I thought the red one needed some love so I added some paper, flowers, a button and some hemp and, well there you go. :) Oh, and don't forget about that darling little bird, peeking out of the top of the pot. One of his friends will be in your kit. :)
"Mama's Boys"
More photos by Kelly, but mostly inside the farm house. Simple layout, with the photos being the focus...but I'm pretty sure these papers and embellishments were made for these pics. I'm just sayin'.... ;)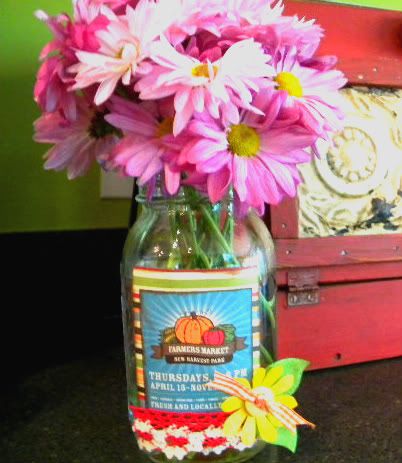 Last fall the hubs bought me a dozen mason jars that were on clearance at Target. He definitely knows the way to my heart. ;) I've used these jars for all kinds of things...most recently to hold my collection of buttons, but thought that one needed to be a scrappy vase for some purple daisies.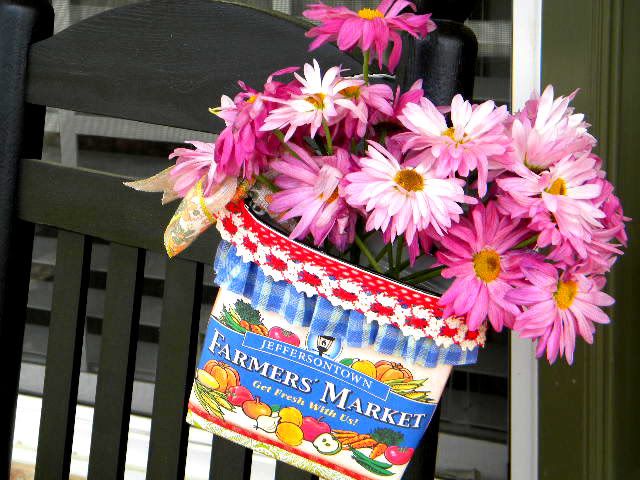 This lovely metal bucket comes IN YOUR KIT! How fun is that? Covered it in some paper, used some of the fab trim and fabric, and put my purple daisies to use once again. :)
And please join us tonight at 8:00 CST for Friday Night LIVE at the Little Blue House!
Since I'm in Georgia I obviously won't be there for the live show, but I will be chatting with the girls online. Should be fun! Hope to see you there!
Now...go order your kit. You're going to love it.....